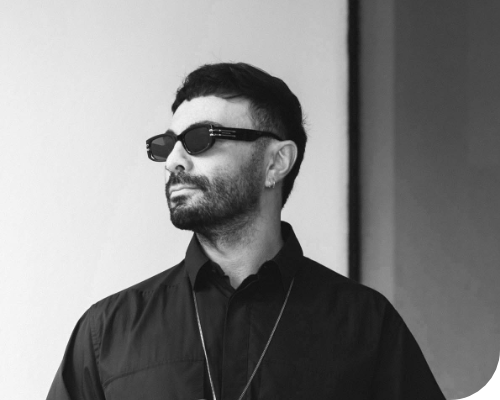 Info
| | |
| --- | --- |
| Label | Desolat, Moon Harbour |
| Booking agent | Jan Stern |
| Presspack | |
News
We are happy to announce that long-time fellow Arado joins the Times Artists roster. Based in Cologne / Germany the career of the highly prolific producer Arado, better known as Mo to his friends, [...]
Based in Cologne / Germany the career of the highly prolific producer Arado, better known as Mo to his friends, suddenly and immediately skyrocketed after the release of his very first single in late 2009.
When his single "Uganda Express" launched via Loco Dice's very own Desolat-imprint and made its way into the sets of every major player including the likes of Sven Väth, Marco Carola, Adam Beyer and of course the labels head honcho Loco Dice everything changed within the blink of an eye and Arado found himself at the very beginning of what soon should be an international career as DJ and producer.
Teaming up with Marco Faraone for the follow up "Strange Neighbours" on Moon Harbour Recordings Arado landed another smash in 2010 that's still a beloved go-to classic for famed DJ's like The Martinez Brothers, Matthias Tanzmann, Jamie Jones, Joseph Capriati and many more even today whilst being praised by the press as a great example for highly sophisticated House music produced in Germany around the time of its release.
These two big tunes paved the way for a continuous string of singles put on the circuit via labels like Allinn, where he kicks out another hit track R.U.W.M, and he goes on with Serious Kitchen, Area Remote, Wow! Recordings, Sanity, Cr2 Recordings, Stil Vor Talent, Dame Music, Snatch Records, Avortre or Etruria Beat as well as Italy's hottest Moan Recordings whilst Arado also was busy crafting remixes for prolific artists like Hector Couto, Klangkuenstler, Pascal FEOS, Martinez, Marco Faraone, Antonio Pica, Yaya, and many others.
Arado's constant search for the most perfect groove alongside true deepness is his trademark when it comes to production approach. Paired with a masterly sculpted sound and a feel for a surprising, yet highly coherent arrangement this is the reason why his tunes usually stand the test of time and are still on heavy rotation years after their original release.
The same goes for his sound as a world touring DJ that still holds on to local residencies and his core fanbase in venues like the 102 Club in Neuss and Cologne's Heinz Gaul where he regularly played over the course of the past eight years.
In 2009 Arado also touched down for a residency at the legendary Space / Ibiza where he still remains a staple within the clubs roster up to this day whilst also covering slots in famed venues like Sankeys or Privilege which have been hot spots on the island ever since.
Collecting air miles week in week out Arado has also wowed masses at festivals like Extrema Festival,Thaibreak, WMC Miami, Sonar Barcelona as well as Parookaville, Tomorrowland and Panama Festival, smashed stages at further open air events like Kiesgrube Neuss, Woodstock69, Pollerwiesen or the famed Street Parade in Zürich whilst regularly playing to his growing fan base in Asia or stopping by for a set in New York, at Cafe D'Anvers (NL) as well as Italian clubs like Tini Soundgarden or Tenax.
Watch your bass bins as Arado is surely about to cater his highly seductive groove through as sound system near you soon!